10 tips on moving during Covid-19
Posted by Brian Mullins on Wednesday, May 20, 2020 at 10:06 AM
By Brian Mullins / May 20, 2020
Comment

10 Tips on Moving During Covid-19
Many people are asking themselves: is moving during COVID 19 pandemic possible? Amid travel bans, lockdowns, and widespread requests of social distancing, millions of people are learning to adapt to the changes brought about by the coronavirus. Almost all events were rescheduled or canceled, shops and parks are closed, among many other restrictions. But for some people, including those who have already made plans to relocate, standing still is simply not an option.
So, can you move during the coronavirus? To date, there is no law prohibiting this action. But it is necessary to take some precautions if you are moving. Below, we have prepared some important tips and information to make your move safe, perfect, and stress-free.
1. Plan yourself
Before looking to move in your new place, analyze everything you have to pack, decide what stays and what goes, control the essential services you must cancel (internet, telephone, etc.). If you will seek the help of a moving company, it's important to book them in advance. Another aspect to think about is: the Permit you will get for the move will last only 24 hours and for a single time. Therefore, it is best to schedule a move early, and thus you will have the whole day.
2. Make a list of everything you need and make only one outing to buy
Whether you need boxes, bags, bubble wrap, disinfectant, or others, prepare a detailed list and make only one trip to the store. Ideally, go out as little time as possible. So a list will help you not go around the hallways thinking about what you needed. Also, a list will make you avoid unnecessary movement to places you don't need to go.
3. Do not get Boxes, better buy new or use Suitcases
In essential businesses like supermarkets, grocery stores, department stores, etc. They usually give away cardboard boxes if you ask them to. It is very common that a couple of weeks before the move, you will begin to get boxes and start the packing process.
In this case, since you do not know the origin of the boxes, or where they were, it is better if you avoid them. As you know, the coronavirus lives on boxes for up to 24 hours. Therefore, it may not be the time to take advantage of used boxes. The recommendation is to buy new boxes or use travel suitcases. The problem with a suitcase is that not everything fits or can be carried in it. Therefore, you will have to invest a little and buy new boxes.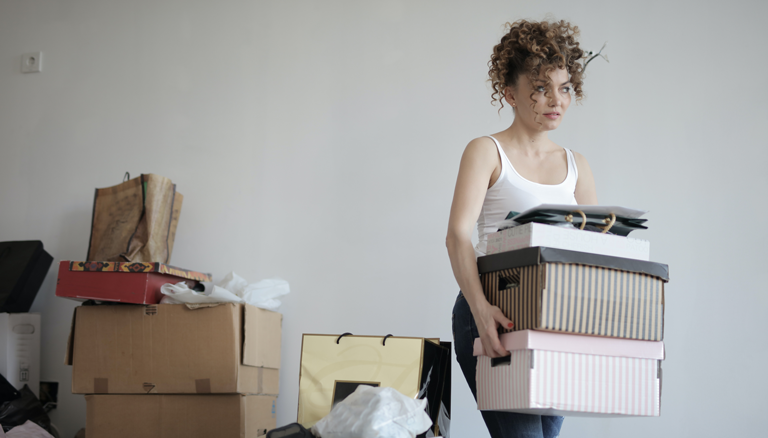 4. Ask the Moving Company about their precautions
People are typically used to asking for quotes from various companies about their moving services and choosing the one that provides them with greater security according to the price-quality ratio. But today, in addition to looking after your belongings, you must take care of your health. Ask about their precautions if employees have the necessary equipment (such as masks, gloves, and boots) before you can hire them.
5. DIY if possible
Moving companies have the option of packing and unpacking your items on their moving trucks without bothering you. But during this coronavirus pandemic, it will be super safe if you pack your belongings yourself. Therefore, keep everything clean in the boxes so that when you start to unpack, you do it with peace of mind. However, if you need help, trying bringing a few family members over, just ensure the people helping you wear a mask.
6. Practice as much social distancing as possible
If you are working with a removal company, request a virtual survey/quote and see if the company offers a completely contact-less service. You can take a walk-through video of your space. You can also provide the measurements of your furniture's so that the company comes prepared for large furniture.
7. Wear Mask and Gloves
Keep in mind that when entering and leaving the house, you are undoubtedly contaminating the environment. Therefore, the use of masks and gloves is highly recommended, but be careful with Cross Contamination. If you are hiring a removal company, it will likely have similar equipment for employees, but consider having extra hygiene products available like hand sanitizer, disinfectant spray, and paper towels.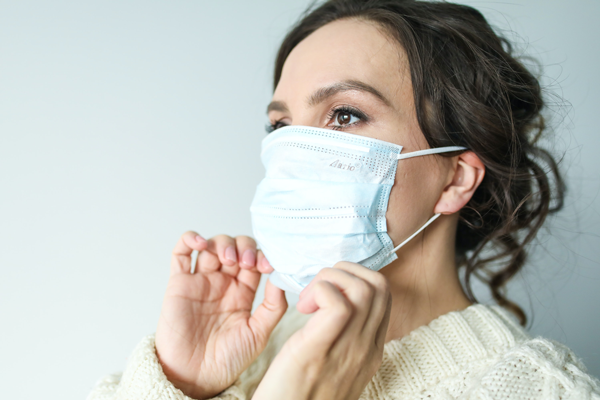 8. Pack everything tightly
It's also important to arrange the items that you want to pack in the boxes and suitcases. For the boxes, ensure you use packing tape to seal them completely, avoid leaving spaces on the flaps. If you can pack by yourself, don't wait until the last minutes. Complete your packing at least 24 hours before the transfer process so that no viruses live in your box at the transfer time.
9. Make sure your new home is clean and sanitized
It does not matter if you do the cleaning or coordinate it with someone else, the important thing is that it is very clean so that you can arrive with peace of mind that the place is free of possible contagions. For the above, it is good that you ensure cleaning be done the day before the move. Remember to disinfect objects and surfaces that are frequently touched, pay special attention to the door knobs, taps, windows, and power switches. Familiarize yourself with the CDC guidelines to properly disinfecting surfaces.
10. Open the package carefully
In your new home, don't be in a rush to open your boxes. Wait for at least 24 hours before unpacking. Within this time, the virus will die on the surface of the carton. However, you can empty the essential items that you will need to use. Ensure to disinfect them first before using them.
It is worth reinforcing: avoid the handshakes, for obvious reasons. A smile is a generous tip. You can start a long-distance relationship through digital platforms, without leaving your home.
Conclusion
Moving is not easy and is especially challenging at the moment, because of the COVID 19 pandemic. But by taking extra precautions, you can overcome all obstacles when moving. Remember to continue following the health and safety guidelines established by the World Health Organization (WHO), and the Centers for Disease Control and Prevention. If you can postpone your move during this time, it will be better. But if that move out is inevitable, hopefully, the tips above will help you.